All I Ever Wanted is a story by PrinceBalto.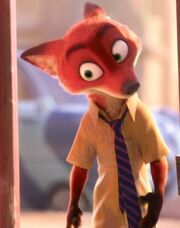 Premise
Inspired by parts of the Prince of Egypt song of the same name, Nick talks about what Judy means to him. This is in Nick's POV.
Story
Judy Hopps
My beautiful cottontail
My lovely fluff
Wondrous eyes of amethyst
A long-eared angel
All I ever wanted
I remember the moment I first saw her
She was beautiful
It had been four years since I broke it off with my first fiancee, Roxy Redfur
Then, one day, Judy walked into my life
The moment I saw that gorgeous bunny cop, I was smitten
We cracked the case, falling in love along the way
We busted Bellwether
We admitted our feelings and began to date
Six months later, she was my wife
Truly, she was all I ever wanted
I didn't know it then
She was all I ever wanted
All I ever wanted
All I ever wanted
Ad blocker interference detected!
Wikia is a free-to-use site that makes money from advertising. We have a modified experience for viewers using ad blockers

Wikia is not accessible if you've made further modifications. Remove the custom ad blocker rule(s) and the page will load as expected.