I Will Always Be With You is a songfic by PrinceBalto.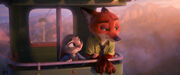 Premise
Nick and Judy are now happily married, and they are running their detective agency. However, when a big case comes up that causes them to have to be apart while Nick goes to help out, Judy sings this to help him. The song is from All Dogs go to Heaven 2.
Story
Nick sighed sadly as he prepared to leave. He was dressed fully, and had all his gear with him. Judy watched him, knowing that he was sad to have to leave for the time being.
"Hey, sly fox, are you ok?" she asked her husband.
Nick sighed.
"No. I know that I have to do this, but I don't like leaving you," he said.
Judy smiled and held him. She looked into his eyes. Deep in her heart, deep in her soul, music played, and she began to sing:
Judy
I will always be with you
Makes no difference where your road takes you to
Even if we're apart
Now we're joined at the heart
Though our moment may be gone
You and I will still live on
Nick
I will always be with you
I'll be by your side whatever you do
Other memories may fade
But the ones that we made
Are eternal as a star
Now I'm part of who you are
Nick and Judy
And I'll be there with you in the sound of your laughter
I'll be in the tears you cry
Nick
Because the way you and I have touched one another
Nick and Judy
Doesn't end with goodbye
Nick
I will always be with you!
Nick and Judy
Like a guardian angel, constant and true
When you're lost in the night and you can't see the light
My love will see you through
Nick
I will always be there
Judy
You'll have me there
Nick and Judy
I will always be with you
Nick and Judy then shared a sweet, deep kiss. Judy smiled.
"Now, Nick, go and help keep Zootopia safe," she said.
Nick smiled.
"I will," he said.
With that, he left to do his detective work. Judy eagerly awaited his safe return.