Judy and the Nick is a WildeHopps movie spoof by PrinceBalto.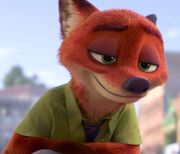 Cast
young Judy Hopps (Zootopia) as puppy Lady
adult Judy Hopps (Zootopia) as adult Lady
Nick Wilde (Zootopia) as Tramp
Shifu (Kung Fu Panda) as Jock
Po (Kung Fu Panda) as Trusty
Cassim (Aladdin and the King of Thieves) as Jim Dear
Esmeralda (The Hunchback of Notre Dame) as Darling
Hama (Avatar: The Last Airbender) as Aunt Sarah
Su Wu (Kung Fu Panda: Secrets of the Masters) as Si
Su (Kung Fu Panda: Legends of Awesomeness) as Am
Obi-Wan Kenobi (Star Wars: The Clone Wars) as Tony
Anakin Skywalker (Star Wars: The Clone Wars) as Joe
Clawhauser (Zootopia) as Toughy
Chief Bogo (Zootopia) as The English Bulldog
Finnick (Zootopia) as Pedro
Flash (Zootopia) as Boris
Gazelle (Zootopia) as Peg
RJ (Over the Hedge) as Mr. Busy the Beaver
T-Bone (Extreme Dinosaurs) as The Alligator at the Zoo
Ad blocker interference detected!
Wikia is a free-to-use site that makes money from advertising. We have a modified experience for viewers using ad blockers

Wikia is not accessible if you've made further modifications. Remove the custom ad blocker rule(s) and the page will load as expected.