Nick Wilde (Robin Hood) is a WildeHopps movie spoof by PrinceBalto.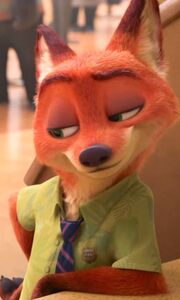 Cast
Nick Wilde (Zootopia) as Robin Hood
Judy Hopps (Zootopia) as Maid Marian
Clawhauser (Zootopia) as Little John
Iago (Aladdin series) as Alan-a-Dale
Bagheera (The Jungle Book) as Friar Tuck
Big Mama (The Fox and the Hound) as Lady Kluck
Genghis Rex (Dinosaucers) as Prince John
Plesio (Dinosaucers) as Sir Hiss
Bad Rap (Extreme Dinosaurs) as The Sheriff of Nottingham
Styraco (Dinosaucers) as Trigger
Brachio (Dinosaucers) as Nutsy
Makku (The Lion Guard) as the tournament crocodile
Flash (Zootopia) as Otto
Timmy (An All Dogs Christmas Carol) as Skippy Rabbit
Jenna (Balto trilogy) as Mother Rabbit
Angel (Lady and the Tramp 2: Scamp's Adventure) as Sis Rabbit
Puppy Aleu (Balto 2: Wolf Quest) as Tagalong Rabbit
Chomper (The Land Before Time) as Toby Turtle
Timon (The Lion King) as Father Sexton Mouse
Marlene (The Penguins of Madagascar) as Little Sister Mouse
T-Bone (Extreme Dinosaurs) as King Richard
Fox (Skunk Fu) as Robin Hood in female fortune teller disguise
Song (Kung Fu Panda: Legends of Awesomeness) as Little John in female fortune teller disguise
Ad blocker interference detected!
Wikia is a free-to-use site that makes money from advertising. We have a modified experience for viewers using ad blockers

Wikia is not accessible if you've made further modifications. Remove the custom ad blocker rule(s) and the page will load as expected.