Once a Kit, Now a Grown Fox is a POV story by PrinceBalto.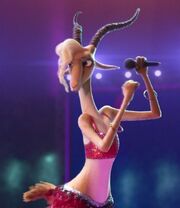 Premise
Gazelle met Nick when he was just eight years old, when she was an up and coming pop sensation of eighteen years of age. For long, she has been one of Nick's family's closest friends, and she saw Nick grow up. Now, following the fox's marriage to Judy, she expresses her feelings of happiness for him, as well as memories of him as a kit.
Story
Nick
Once an adorable kit
Now a handsome grown fox
I remember the day I met you
You were just an eight-year old kit, spending time with your aunt
I was just eighteen
I had come to conduct business with your parents, as they were to sponsor my first concert
From that first meeting, I became their close friend
I watched you grow
Oh, what a sight it was
Now, here you are
Grown up
Handsome
Married
Yes, you are married, to the love of your life
To see you so happy makes me happy
A long and happy marriage to you, Nick Wilde
I also wish you a long and happy life
Don't forget
Try everything
Ad blocker interference detected!
Wikia is a free-to-use site that makes money from advertising. We have a modified experience for viewers using ad blockers

Wikia is not accessible if you've made further modifications. Remove the custom ad blocker rule(s) and the page will load as expected.