Our Life Together is a story by PrinceBalto.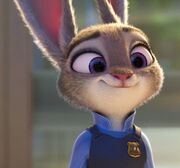 Premise
A poem-style piece set over the course of Nick and Judy's marriage, spanning from their wedding day to their late elderly years, when Nick passes on
Story
Nick Wilde
My handsome sly fox
Today is our wedding day
You
Me
The sly fox and the former ZPD officer
We are in love
We take our vows
We are now husband and wife
A year later, our son Noah is born
He is our pride and joy
We will tell him about all our adventures
He lives a happy childhood, free of our troubles
His teen years are also happy, nothing goes wrong
Years pass, Noah is now a young man
We are getting older
You are now head of your family's business
It continues to grow
More years go by
We do and see so many things
Eventually, our twilight years dawn
We have both grown old
It is obvious that we are both at the end of our lives
One day, the saddest day of my life occurs
In your sleep, due to your age, you pass away
I feel that you have no pulse
I know that you are gone
I call those I need to call
Soon, it is time to plan your funeral
When there, I cry hard
No one can comfort me
Not our son, not our daughter
Not our son's wife, not our granddaughter
The wound on my heart will be there from now on
Before long, my time will come
We will be reunited in that great beyond
I love you, Nick Wilde
I have loved you since I met you
That will not end now
Ad blocker interference detected!
Wikia is a free-to-use site that makes money from advertising. We have a modified experience for viewers using ad blockers

Wikia is not accessible if you've made further modifications. Remove the custom ad blocker rule(s) and the page will load as expected.