The Beginning of Romance is a poem style piece by PrinceBalto.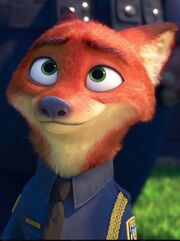 Premise
In this poem style oneshot, Nick, near the end of his police training, admits his romantic feelings to Judy, she reveals that she feels the same way, and they begin dating.
Story
My name is Nick Wilde
My story is a story of change and a story of overcoming the past
I am a fox
I was hated and looked down upon
Now, because of a certain bunny cop, my life has changed for the better
Her name is Judy Hopps
I helped her solve the savage crisis, and she helped me turn my life around
Because of her, I am now training as a police officer for the ZPD
Each day is rigorous at the academy
She is there to help me, there to encourage me
It is obvious that something has begun to change between us
We are falling in love
The seeds of romance that were planted during the savage crisis are starting to sprout
Time passes, and our attraction grows ever stronger
Then, just before my graduation, it happens
We meet up one evening
We talk a bit
The time comes
I admit my romantic attraction to her
Mention what she means to me
She smiles, and I wait
She admits that she feels the same
In that moment, we agree to begin dating
She is now my girlfriend
I am now her boyfriend
I am very happy now
In my heart, I hope it lasts
She is the bunny for me
She is all I ever wanted
Ad blocker interference detected!
Wikia is a free-to-use site that makes money from advertising. We have a modified experience for viewers using ad blockers

Wikia is not accessible if you've made further modifications. Remove the custom ad blocker rule(s) and the page will load as expected.