This is PrinceBalto's voice cast for his fic Zootopia 2.0.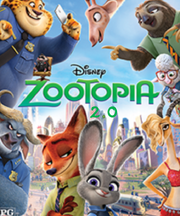 Cast
Ginnifer Goodwin as Judy Hopps (With Della Saba voicing her as a child)
Jason Bateman as Nick Wilde (With Kath Soucie voicing him as a child)
Jim Cummings as Robin Wilde (Imported character)
Tara Strong as Marian Wilde (Imported character)
Don Lake as Stu Hopps
Bonnie Hunt as Bonnie Hopps
Shakira as Gazelle
Ewan McGregor as Soren Oryxhorn (OC)
Idris Elba as Chief Bogo
Nate Torrence as Benjamin Clawhauser
Scarlett Johansson as Rebekah Clawhauser (OC)
Diamond White as Fuli Clawhauser (Imported character)
Tommy "Tiny" Lister as Finnick
Mae Whitman as Honey Honey Badger
Dougray Scott as Dr. Dougray Honey Badger (OC)
Katie Lowes as Dr. Madge Honey Badger
Jenny Slate as Dawn Bellwether
J.K. Simmons as Mayor Leodore Lionheart
Pernilla August as Alissa Lionheart (OC)
Natalie Portman as Sasha Lionheart (OC)
Linda Larkin as Katrina Antlerton-Bogo (OC)
Dante Basco as Jake Bogo (OC)
Sheryl Lee as Rachel Bushytail (OC)
Ad blocker interference detected!
Wikia is a free-to-use site that makes money from advertising. We have a modified experience for viewers using ad blockers

Wikia is not accessible if you've made further modifications. Remove the custom ad blocker rule(s) and the page will load as expected.